If names like Q-Bert, Pac-Man and Asteroids bring you fond childhood memories, and if names like Victory, Neshaminy Creek and Yards bring you delicious memories of last week, then Barcade Philadelphia is the place for you.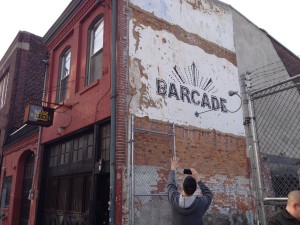 Barcade is nestled in an old industrial structure in Philadelphia's Fishtown section; the brick outer facade and original interior ceiling beams remind you that this building was not always the beacon of fun that it is now.
As you enter, the bar greets you with almost thirty taps of craft beer from local breweries as well as others from around the country.  When I was there, Neshaminy Creek's "Reanimator" was on nitro, and a collaboration brew between Barcade and Victory – Fall Bockwards – was available.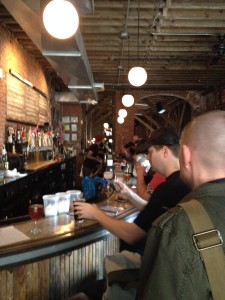 There are about 10 classic arcade games in the front of building, but the back is where the big action is.  From Centipede to Asteroids to Kung Fu Master, the collection of games invites you to relive the days of your youth on the boardwalk or in "the Mall" – the colorful lights and sound effects immediately evoke memories of high scores earned after hours of concentration.  Except now there is a craft brew in your hand – and a cup holder on the machine!
I spoke with Paul Kermizian, co-founder of Barcade, and asked how he and his partners came up with the concept.  He explained, "We just wanted to open a neighborhood bar for ourselves." After directing a documentary about craft beer in 2003 called, "American Beer" (available on www.amazon.com), Paul knew their bar must serve craft brew, and, with a collection of four arcade games, they also thought that it would be great to put those games in the bar.
The original Barcade was opened in Williamsburg, Brooklyn in 2004.  Recognizing its success, a second was opened in Jersey City in the spring of 2011, quickly followed by the Philadelphia location in the fall of 2011.  Currently a fourth location is under construction in Manhattan.
According to Paul, the response to Barcade Philadelphia has been very positive, as seen by the large number of regulars who are there throughout the week and by the large, "crazy" numbers of people who come in on the weekends.  As further evidence of Barcade's success, Esquire Channel's "Brewdogs" show ranked Barcade as their number one craft beer bar in Philadelphia.  I asked Paul if he was surprised about this and he said, "It was unexpected…It was cool to get number one, especially since there are so many great craft beer bars in Philadelphia."
Paul's favorite video game at Barcade Philly?  "Tapper" – a Budweiser inspired game originally released in 1983.  You play as a bartender serving mugs of beer to thirsty patrons – but don't let the unserved customers reach you or they will grab you and slide you down the bar and out the door!  The Budweiser logos and trademarks are incorporated in every aspect of the game – the joysticks are shaped like tap handles, and if you win the bonus round you receive 3,000 points and a hearty, "This Bud's for you!"
My recent visit to Barcade was truly special because I was there with Chris Steltz of BeerGeekNation.com and Mark Bussler of ClassicGameRoom.com.  Mark, who reviews video games from all eras, was truly impressed and recommends Barcade to his fans: "Kids that grew up in the 80's going to arcades or playing these games on Atari and NES are now adults.  Barcade wonderfully preserves the arcade games and serves them up with beer and good times – it's the perfect storm of nostalgia and refreshment!"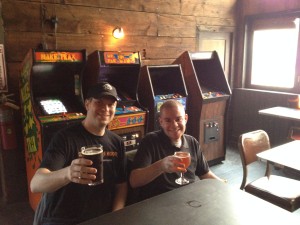 It's simple – if you ever saved your quarters to play video games at an arcade in the 80's, and you love craft beer in the 2010's, then you need to check out Barcade.  The experience of playing Spy Hunter or Ms. Pac Man with a quality craft beer will make you more than happy about being separated from your hard earned quarters!
Barcade has special beer events such as tap takeovers often – visit Barcade's website, Facebook page, or follow Barcade on Twitter and Instagram to see what's up next.
Cheers!
The Brewholder
Copyright 2013 – all rights reserved