Recently I found myself on what was supposed to be a four day trip to St. Petersburg, Florida. Not knowing much of the beer scene there, I did some Googling prior to arriving (and consulted my fellow beer explorer #jimantush) and found several names of breweries – so I was encouraged.
The first thing I noticed when I arrived (after the 70 degree temperature, the palm trees, the salt air and the pelicans flying on the breeze) was a Grand Prix running through the streets of the city- it was amazing seeing those cars go
whipping by on what is usually a commercial city street for commuting mini-vans!
With my brewery list in hand, I set out for the city's namesake, St. Petersburg Brewery. According to my bartender, St. Pete's Brewery was one of the first five breweries to open when the law changed to allow for breweries in 2013. (The other 4 were: Cycle Brewing Company, 3 Daughters, Green Bench, and Brewers Tasting Room).
When I was there, St. Pete's Brewing had a large selection of beers on tap, and offered flights of 4, 6 or 10. I ordered a flight of 6, which was served in a curved barrel stave. Another patron ordered a 10 fight while I was there – that was a huge stave! I really enjoyed their Golden Ale while sitting in their open air tasting room – it had a very tropical vibe to it all. I also thought it was cool that they had a pumpkin beer – Drop Dead Gourd-eos- even though it was not Fall (which I believe more breweries should do!)
After getting some tips from locals at St. Pete's bar, I went to Cycle Brewing which is only a block away. For as bright and tropical as St. Pete's was, Cycle was dark and industrial, with bikes hanging from the ceiling at the back of the bar. Two session IPAs were pouring; I tried the "Pedal Brakes" and listened to the punk music thumping on the stereo. Although I did not try it at the brewery, later in the evening I had the chance to drink Cycle Brewing's "Cream and Sugar, Please Coffee Porter." The flavor of coffee was perfect and made me wonder if I could take some to my hotel for breakfast the next day!
The next stop – highly recommended by the folks at St. Pete's – was Green Bench Brewing. Green Bench is known in the area for their saisons and sours, so it was an absolute must visit. I enjoyed two flights in the lovely beer garden on the side of the brewery; it was an idyllic scene as I sampled their beer and watched the sky turn from orange to blue to indigo. I enjoyed Green Bench's Saison de Banc Vert – a saison / table beer, as well as their Cranberry Vert.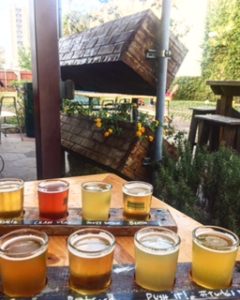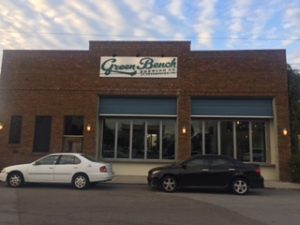 Once the sun set and the sample glasses were empty, I set off for Urban Comfort Restaurant and Brewery, which was added to my list on the recommendation of a local beer drinker I met earlier in the day, who raved about their comfort food. What struck me the most as I arrived was the fact that the brewhouse was outdoors – under a roof of course, but outdoors nonetheless; which would never be seen in the harsher climate of my home state of Pennsylvania.
I ordered a flight of four brews and asked for one of the most comfortable meals in existence – meat loaf and mashed potatoes – but they had already sold out. So I chose the braised pulled pork on mashed potatoes with fried pickle chips, which had a surprising spicy kick to it.
Once the flight was gone, it was time to head back to the hotel and make a plan for the next night. But first – on another recommendation by a local – I stopped into Right Around The Corner Bar. Known for its selection of sour beers, Right Around the Corner Bar is owned and operated by Tom Rockhill, a passionate craft beer fan.
As I sipped a quick nightcap, Tom pointed out his "Sour Tower" list (3 taps that always have sour beer) and the main draft list on the wall. I was surprised to see a brew from Weyerbacher and asked Tom how a Pennsylvania brew had gotten to his bar! He explained that Weyerbacher had participated in the St. Petersburg beer fest the prior week, so there were a lot of unique brews in town! At last call, Tom suggested I return the next night so that we could talk more about the St. Petersburg and Tampa Beer Scene, and I enthusiastically agreed.
Unfortunately, when I awoke the next morning, the news from Philadelphia was bad – snowmageddon was approaching, and the Eagles had acquired Nick Foles again. I reluctantly moved my flight and returned to Philadelphia, and promised myself (and Tom) to return to St. Petersburg again soon to finish what I had started!
Cheers to everyone I met from the St. Petersburg beer scene – thank you for your hospitality and hosting a wonderful beer day!
The Brewholder
Copyright 2017 – all rights reserved