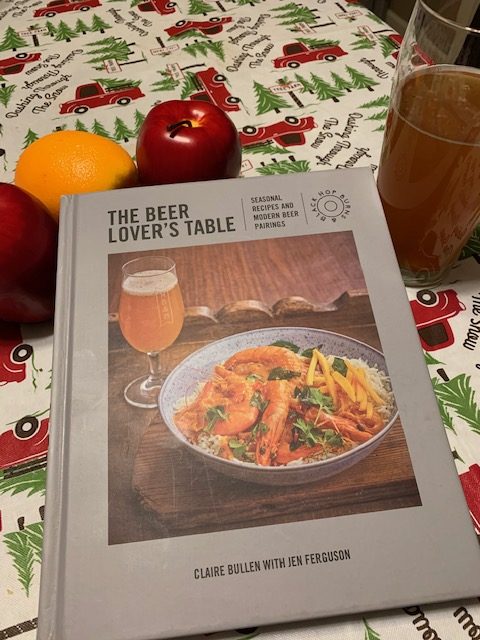 Nothing brings joy to the holidays more than a delicious meal with family and friends – paired of course with fantastic beer! "The Beer Lover's Table," by Claire Bullen with Jen Ferguson, is a new take on the traditional beer pairing recipe book that will help you set the perfect table this holiday season. This hard backed, beautifully photographed collection of mouth watering ideas provides plenty of inspiration for your next gathering of craft beer lovers.
Written by Claire Bullen, a London-based beer lover and food writer; and featuring Jen Ferguson, co-owner of the London-based craft beer shop Hop Burns & Black, the book's recipes were carefully selected by Bullen to pair with brews that are available to readers in the UK, U.S., and New Zealand.  Rather than arranging the chapters by meal course, The Beer Lover's Table is built by beer style, from Sours & Saisons to Dark Beers, and provide at least three beers for pairing with each recipe.
Any attempt at a quick perusal of the book will be foiled by the titles of the dishes and their associated photographs, which invite you to sit and read more, and lead you to imagine yourself hosting a beer pairing dinner where you serve Vietnamese Pork Belly with Noodles, Frizzled Shallots and Watermelon Salad, paired with a Bavarian Pilsner like Victory "Prima Pils." Other pairings that jump off the pages include Dutch Baby Pancake, Strawberry Compote, and Whipped Basil Cream paired with 21st Amendment "Hell or High Watermelon," Schlafly "Raspberry Hefeweizen," or Two Roads "Road Jam;" or Shawarma-spiced Cauliflower with Pomegranate and Tahini Sauce paired with Dogfish Head "Carobock" or Ayinger "Urweisse."
Interlaced within the recipes are helpful articles on hop varieties, beer style descriptions, pairing tips and overviews of the authors's favorite breweries. Available on Amazon for around $13, The Beer Lover's Table is a fantastic addition to the library of those craft beer fans who appreciate the magic of a perfectly paired beer and meal, and is a great gift idea!
Cheers!
The Brewholder
Copyright 2019 – all rights reserved