Last week I had had enough of the polar temperatures and piles of snow, so I headed down to Florida to check out the beer scene and warm up a little.  When thinking about Florida's beer scene, usually Cigar City Brewing comes to mind, and Yuengling's second brewing facility.  But after doing a little research, I learned that there is a young and growing craft beer scene in the Sunshine State.
Funky Buddha Brewing Company
My first stop took me to Funky Buddha Brewing Company located in their relatively new facility in Oakland Park, Florida, which is right outside Fort Lauderdale.  The front of the brewery was deceiving – I thought I was walking into a much smaller place, but I was pleasantly surprised to see a large, well-lit room with a high ceiling and a long, angled bar.
The common area is painted in a subdued orange, and two walls are decorated with brightly colored murals that reflect the philosophy of the brewers and owners.  [Unfortuntely, one of my pictures was blurry, but after a few beers it should be fine – so drink up!]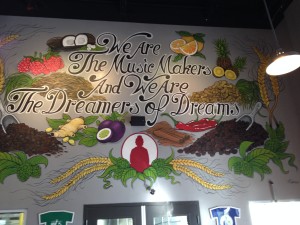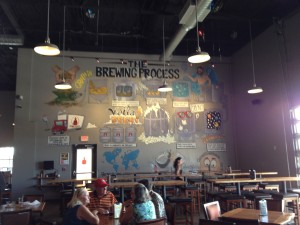 After taking it all in, my first impression was that this would be a great and refreshing place to have a beer after spending some time in the hot Florida sun.
Funky Buddha has been in operation since 2010 and opened their current location in June 2013.  Most well-known for its "Morning Wood" Imperial Stout aged in a whiskey barrel, the brewery has a strong following throughout the state.  At a rare bottling event for its Maple Bacon Coffee Porter in January 2014, almost 4,500 people stood in line to take home some of the brew.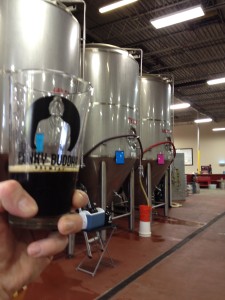 My companion and I took a seat at the end of the bar and we each ordered a flight of four beers.  We shared eight samples of Funky Buddha's finest offerings – Floridian Hefeweizen; Hop Gun IPA; Crusher Session IPA; Dubbel Dragon Belgian; French Oak Hop Gun IPA; Starfruit Floridian; Tropical Lindy; and OP Porter.  All of these selections were nice examples of the styles; my two favorites were the Starfruit Floridian and the Crusher Session IPA.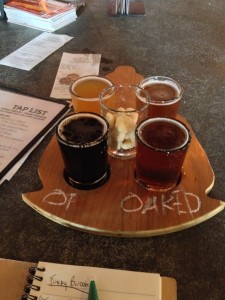 Despite its large size, Funky Buddha does not serve food.  No worries though – like many other breweries, food trucks are located outside the brewery, and you are welcome to bring in your own food as well.  Brewery tours, including four samples in the brewhouse and a Funky Buddha pint glass, are available at the top of each hour for $5.00.
Overall, Funky Buddha is a great place to try some well-crafted beer on a sunny afternoon if you need a break from the beach!
Hollywood Organic Brewery
In Hollywood, Florida, there is a craft brewery on the boardwalk that prides itself on the healthy benefits of its creations.  In operation since December 2011, Organic Brewery uses only organically grown German hops and barley, does not filter its brews, and uses a natural carbonation system.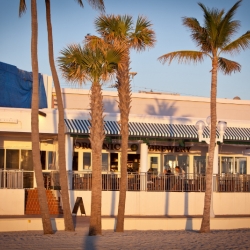 Before speaking with Organic Brewery's General Manager Johnny Quinones, I took a seat at a table outside, which offered a beautiful view of Hollywood beach and the Atlantic Ocean.  A warm ocean breeze was blowing as I ordered a flight of the four beers on tap – German Pilsner, Belgian Ale, Russian Stout and German Wheat.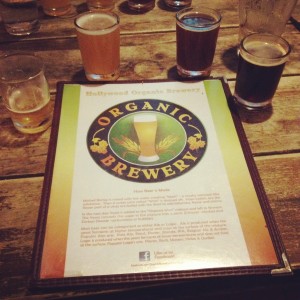 Compared to other beers, these are much lower in carbonation and much cloudier.  But the tingling on your tongue confirms that they are indeed carbonated, and the flavor of the beer tells you that this was definitely not a mistake. My personal favorite of the four was the German Wheat – the expected clove and banana flavors were certainly dominant, and it had a solid phenolic taste as well.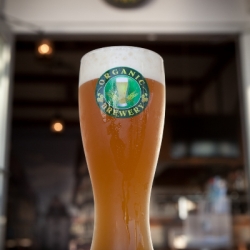 Once I had sampled the brews, I went inside to speak with Johnny.  I asked him what his customers' reactions have been to his special beers, and especially to the lower carbonation.  He explained, "People who aren't familiar with traditional European brewing – especially in Eastern Europe – think the beer is flat.  But it's not – this is what we wanted to do."  According to Johnny, a large number of people in the Hollywood community trace their roots to Eastern Europe, so Organic Brewery certainly has their support.  In addition, Organic Brewery has one of the only natural carbonation systems in the country, manufactured by Zipbier,  so it is rare to find at a commercial level.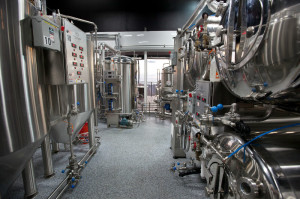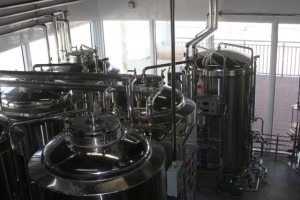 Johnny explained that they do not filter their beers because they believe it makes the beer healthier.  "When you filter a beer, you take out most of the yeast and Vitamin B.  We leave it in and our customers appreciate that."  In fact, while I was there, several patrons were ending bike rides on the boardwalk by replenishing vitamins with the German Pilsner.
But of course, the traditional brewing methods result in the beer having a 30 day shelf life.  Johnny told me that this can be frustrating to their distributors.  To ease that frustration, and in response to the great demand for their beer, Organic Brewing will soon be enlarging and moving their production away from the brewpub location.  Johnny was quick to add that the brewpub would remain because the location is so great.  "Sometimes I'm sitting at the bar during the business day making phone calls or emailing, and I see the beach and ocean, and I can't believe I'm working!"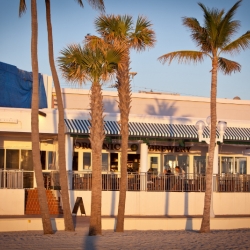 When I asked whether they have plans for other styles of beer, Johnny said possibly, but, unlike other craft breweries, their concept of traditional, healthier brews is unique and so they have no immediate plans to brew any "crazy" beers like candy or bacon infused beers.  "I don't put bacon in my body, so why would I put it in my beer?
Once I had a better understanding of Organic Brewing's concept and process, it was easy to truly appreciate these brews – especially when sitting next to the ocean on a 72 degree Februrary evening.  If you ever find yourself in Hollywood or the surrounding area, you should hop on a bike and make sure your last stop is Organic Brewery.  Your taste buds – and the rest of your body – will thank you!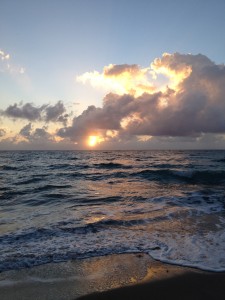 My trip to the Sunshine State in the middle of a brutal Pennsylvania winter was regrettably short but thoroughly enjoyable!  Besides Funky Buddha and Organic Brewery, other Florida brews that I sampled and would recommend included:
Native Brewing – "Lager"
Tequesta Brewing – collaboration with Funky Buddha – "Polish Hammer"
Florida Avenue Brewing Company -"Blueberry"
Inlet Brewing Company – "Monk in the Trunk"
Cheers!
The Brewholder
Copyright 2014 – all rights reserved