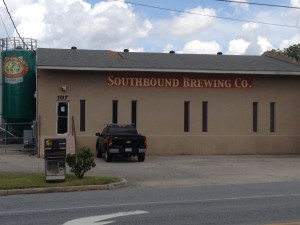 When I visited the newly opened Southbound Brewing Company in Savannah, Georgia, it was clear that three things guide the creative process there – quality brewing, music and friendship.  And as Savannah's first production-only microbrewery, those three factors have been essential to the success Southbound has seen in the few short months they've been open.
Southbound Brewery is operated by Brewmaster Smith Mathews, Marketing Director Carly Wiggins and Brewer Alex Breard.  Smith studied at the Seibel institute in Chicago, Illinois and the Doemens Academy in Munich, Germany.  He received his International Diploma in Brewing Technology from the World Brewing Academy.  Smith and Carly, friends since childhood, have attended more than 2000 concerts combined, and their appreciation for music has provided the motivation not only for the name of the brewery – which is a nod to the Allman Brothers – but also for the names of their initial flagship brews – Scattered Sun Wit, Hop'lin IPA and Iron Lion Pale Ale.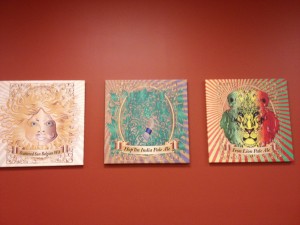 When I first arrived at Southbound, just a walk from the Savannah Riverfront district, I was given a tour of the brewery by Smith, who showed me the brewhouse, which is comprised of four (4) vessels and five (5) 60 barrel fermentation tanks.  Besides the line of brilliantly shining silver fermenters, my eye was drawn to the ceiling where the 24 foot diameter "Big Ass Fan" ensures that the southern heat doesn't impact the brewing process.  Smith led me up to the raised platform that provides access to the mash and lauter tuns, and also houses the computerized system that he can monitor anytime, from anywhere, through an app on his smartphone.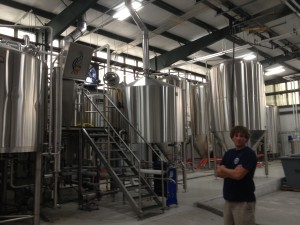 Southbound has enjoyed great local support and success in their first few months – in less than 50 days, they obtained over 100 accounts in the southeast Georgia region.  In their first four weeks of production, they were making single batches that only filled the fermenters halfway.  By Week 5 they needed to begin making double batches – which they thought wasn't going to happen for quite some time.
After the brewery tour I spoke with Carly about the effort it has taken to establish Savannah's first production-only microbrewery.   She explained that obtaining the financial support was the easy part – the difficult part was, and continues to be, educating the Savannah City Council on the differences between a brewpub and a production brewery.  This is an important distinction because Savannah has its share of restaurants and one brewpub, but has no other production breweries that give tours to the public.   But even though I was given a tour, don't expect to show up and get one yourself – at least not yet.  The Southbound team is waiting – patiently – for the Savannah City Council to approve an ordinance that was proposed almost a year ago that would allow brewery tours.   Once permitted, the tours will occur during a two (2) hour period and will include a tasting of their brew – but no more than 32 ounces per person, per day.  According to Carly, she is sure that the ordinance will pass, but the City Council just needs more time to learn about what they are doing.  In the end, they are just happy to be brewing at this point.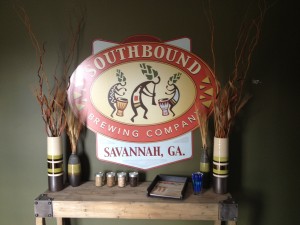 When tours are finally permitted, the public will be able to see the warm and welcoming main entrance and waiting area, which are designed in the southwestern motif that is also found in Southbound's "hop head" logo.  I asked Carly about the "hop heads" – three Kokopellis with hops buds on their heads.  Although they were first drawn to the symbol because of the incorporation of musical instruments, she explained that when they researched the Kokopelli, they learned that it represented trade and fertility.  They concluded that if you mix beer and music, fertility might take its course – and so the "hop heads" were born.
While interviewing Carly – in true southern hospitality – I was offered a Hop'lin IPA (6.2% ABV).  It was a well-balanced American IPA that hit the spot after walking through the sultry Savannah heat.  I imagine that it would be perfect for a summer barbecue while enjoying a game of horseshoes, or just sitting at an outdoor bar catching up with friends.  To try the others, Carly took me to one of Southbound's biggest supporters –  Savannah's World of Beer located at 112 West Broughton Street.   The friendly and knowledgeable beer manager Chris Geerlings poured me a flight of regional selections, which of course included Southbound's two other flagship brews – Scattered Sun Wit and Iron Lion Pale Ale.  The Scattered Sun Wit was a light, summery brew that encourages you to take it outside and enjoy it in the sun, and the Iron Lion was a solid Pale Ale true to its style.
Carly told me that among their other plans for the future, they intend to produce a "Siren Series," a line of sour beers each dedicated to songs by female artists or with female names in the titles.  Information on the release of these brews, as well as when tours have been approved by the Savannah City Council, can be found on the Southbound website (www.southboundbrewingco.com) and on their Facebook page.  As far as their plans for expansion into different markets?  Carly explained that they will be careful in what they do because they "don't ever want to grow faster than you can produce, and you don't want to take the chance that the quality won't be there."  As an example, they postponed the highly anticipated first release of their Pale Ale because it didn't meet their expectations – "We dumped an entire 60 barrel tank.  It was a sad day…but everything that we're going to send out has to be perfect.  It's all about quality."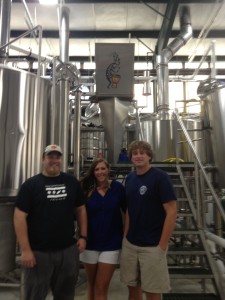 Southbound is a wonderful example of what can happen when friends, music and brew are united.  As Carly said to me, "In my opinion, we've got a pretty good vibe going – three friendly people that just love beer."  Although it may be some time until we may see Southbound on taps outside southeastern Georgia, I recommend that anyone headin' south seek out Southbound Brewing Company's offerings, turn on some classic rock, and enjoy the brews outdoors.  Cheers!
The Brewholder, July 31, 2013
Copyright 2013 – all rights reserved