It's Philly Beer Week – the annual celebration of America's best beer drinking city that runs from May 30 – June 8, 2014!  Hundreds of events are planned at bars, breweries and restaurants throughout the week. It officially begins with the "Opening Tap" at the 23rd Street Armory at 7pm on May 30, where 40 breweries will serve the best of their best creations.  A schedule of all the events can be found on the Philly Beer Week website.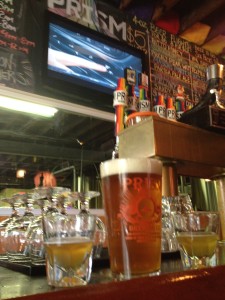 So how are you going to celebrate #PBW14? I started by visiting Prism Brewing in North Wales, and through the guidance of the very friendly Veronica, I enjoyed some of their inventive creations (like the Prickly Pear Wit, Par Tea Pale Ale (made with black tea), Shady Blonde Ale (made with Blood Oranges), and their Mason's Porter (with a special sugar rimming that took this to a whole different level!).  Add an order of their fried pickles, and it's not a bad start to the Week!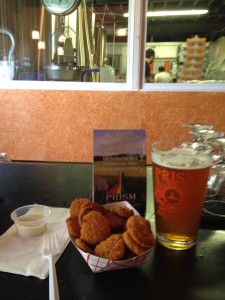 What made my visit to Prism very special was the fact that through the glass behind the bar, I could see the brewers, Rob and Matt, hard at work putting the bottles of brew into cases by hand.  Watching them, it made me appreciate their brew even more.  If you want to try their offerings, check their schedule to see where they will be during PBW14.
Have a great Philly Beer Week – maybe I'll see you around!
Remember to follow me in real time at: "The Brewholder" on Facebook; @thebrewholder on Twitter; and The Brewholder on Instagram!
Cheers!
The Brewholder
Copyright 2014 – all rights reserved