On the verge of 2015, I wanted to take a quick look back at the great year that was 2014!  I met so many awesome craft brewers and their creations – locally, in the U.S., and around the globe –  Wow!
A summary of my 2014 highlights:
January – a quick visit to Funky Buddha and Organic Brewing in the warm Florida sun.  
March & October –  Two new Ommegang / Game of Thrones beers – Fire & Blood Red Ale; Valar Morghulis 
April – I visited San Francisco and visited 21st Amendment, Thirsty Bear and the Toronado to sample the best of the City by the Bay.  
August – My personal highlight – a trip to the booming craft beer city of St. Louis!  Details will be coming soon in a Philly Beer Scene issue…but those of you following me on Instagram, Facebook and Twitter know that I had amazing visits with Four Hands Brewing, Perennial Artisan Ales and Urban Chestnut Brewing!  And I visited the Clydesdales too…
September – Beer in the desert – I was able to find out first hand about a craft beer oasis in Phoenix, Arizona!  
For every issue of Philly Beer Scene this year I researched and wrote about the history of these outstanding Belgian breweries:  St. Bernardus, DuPont, De Koninck, Het Anker, De Halve Maan, and Van Steenberge.  Also, I had the opportunity to interview Jack Maxwell, the host of Travel Channel's new show, "Booze Traveler."  
Local highlights include the Forest & Main monthly Sunday dinners from January to August; The Band of Brewers; the Fifth Annual Lansdale Beer Festival; the Philly Beer Scene Awards in May – with Free Will's Whit beer that aged nicely for Thanksgiving; a collaboration beer pairing dinner with the brewers at Iron Hill Chestnut Hill during Philly Beer Week; and a fantastic trip to McGillians to start the holiday season !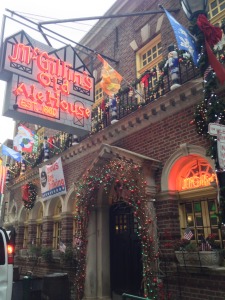 What a great year!  Thanks again to all my brew friends who helped make 2014 so awesome!
So what will 2015 bring for the Brewholder?  A few spoilers:  San Diego; Portland, Maine; Savannah; New Orleans; more Belgian history; at least one new Ommegang / Game of Thrones beer; and a relocation for The Brewholder HQ…Looks like 2015 is going to be another exciting beer year!
Cheers and Happy New Year!
The Brewholder
Copyright 2014 – all rights reserved