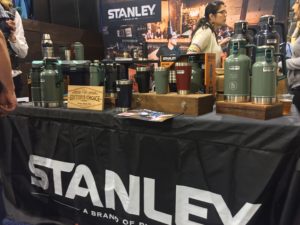 When I was at the Craft Brewers Conference this month, I visited the Stanley Products      booth at the Brew Expo to check out the Stanley Growler.   I had only heard about them for the first time in February – a friend had one filled with Oskar Blues Ten Fidy – and I was impressed!
If you haven't heard about the Stanley Growler yet, here's the deal:  a stainless steel, double wall, vacuum insulated body, this growler is advertised to keep beer cold for 16 hours!  When I was drinking the Ten Fidy – an imperial stout – in February, I wasn't too concerned about the coldness.   But now in the summer months – and my affinity for pilsners and saisons at picnics and outdoor events – keeping them cold is paramount!
So I acquired two full sized Stanley growlers (as well as a lidless Stanley tumbler that is advertised to keep beer cold for 4 hours), and over the next few weeks I'm going to put them to the test!  Follow me – #thebrewholderstanleytest – on Instagram,  Facebook and Twitter to see how the Stanley Growler stacks up!
Cheers!
The Brewholder
Copyright 2016 – all rights reserved