For those of you who were drinking craft beer in March of 2011, you probably recall a news article announcing that a Chicago brewery named Goose Island had agreed to sell a portion of itself to mega-brewery Anheuser-Busch. To say that this announcement created "a stir" would be a serious understatement of the emotional reaction elicited from the craft beer drinking public. Because I too had a reaction to the sale, the book "Barrel-Aged Stout and Selling Out – Goose Island, Anheuser-Busch, and How Craft Beer Became Big Business," by Josh Noel, published 2018 by Chicago Review Press, was an outstanding read for me.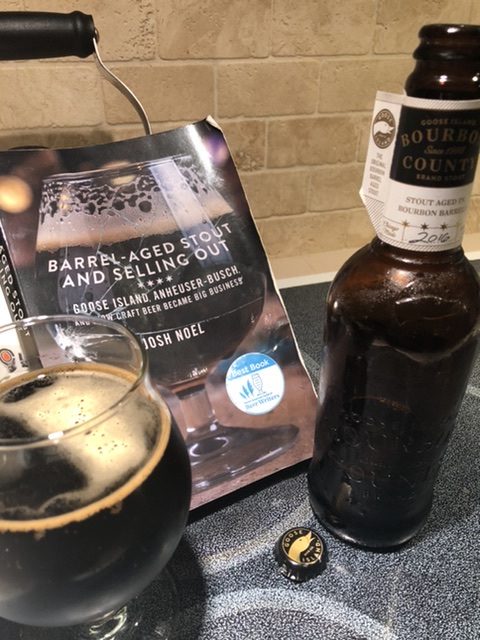 In "Barrel-Aged Stout and Selling Out," Josh Noel, a beer journalist who writes about beer and travel for the Chicago Tribune, artfully weaves together the story of John Hall, the founder of Goose Island, who saw an opportunity in a growing industry in 1988 and took it; his son Greg Hall who blossomed into a visionary brewer and THE voice of Chicago beer; and how In-Bev / Anheuser-Busch worked tirelessly to compete with and then acquire the craft beer upstart.
This book is a fantastic read for anyone who is curious about why – and how – a craft brewer who embraces the concept of "drink local" would decide to sell out and risk losing its local following. If you witnessed the Twitter, Facebook and Youtube explosion of reactions to the sale in 2011, "Barrel-Aged Stout and Selling Out" provides a revealing, behind the scenes expose on the decisions made – by the Halls as well as Anheuser-Busch executives – before and after the sale. In fact, Noel's story does not end in 2012, but continues through 2017, documenting Goose Island's imperial march to expand distribution across the United States.
I strongly recommend "Barrel-Aged Stout and Selling Out" – it was truly a "page turner" for me; the only time I put it down was to go to the fridge for another brew! Available on Amazon in paperback ($14.99) and Kindle ($10.99).
Cheers!
The Brewholder
Copyright 2019 – all rights reserved