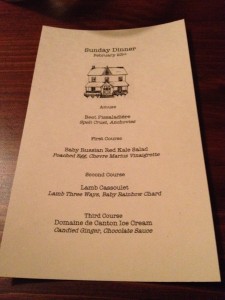 Forest & Main Brewing Company held its second "Sunday Dinner" on February 23.  The "Sunday Dinner" is the newest opportunity for fans of Forest & Main to experience their European-inspired craft brewed beer on a different level – paired with food selected and prepared specifically to match their beer.
The meal was held in a candlelit room on the second floor of the refurbished Victorian-era home.  Limited to twelve guests, we sat at one large, family-style table.  Any initial awkwardness between twelve strangers was quickly eliminated through the welcoming atmosphere created by the smile and warmth of our lovely hostess, Maddie (and the fact that several of the attendees had been at the first dinner in January!)
The February dinner was truly a special treat for fans of Brettanomyces.  As soon as we were settled at the table we were served Forest & Main's Peach Marius – a limited issue saison made with local peaches bottled and aged since last September.  As he did before every course, Brewer Gerard Olson did an outstanding job of introducing us to the beer with both the technical aspects of the beer as well as extremely enjoyable anecdotes about their creation.  Our first taste of Chef Kaylin Miska's ability was a Beet Pissaladiere on Spelt crust with anchovies that paired with the Peach Marius wonderfully.  In addition, even before tasting them, the orange of the Marius and red of the beets by candlelight was a visual treat.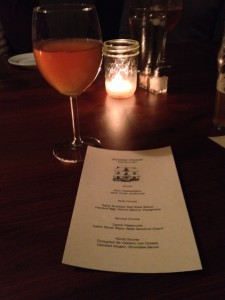 The first course was a Baby Russian Red Kale Salad with poached egg, a vinaigrette dressing made with Forest & Main's St. Mary saison, and parmesan crisps.  This French-inspired offering was paired with another version of the Marius aged on plums.  This was an excellent combination – the sourness of the Marius worked perfectly with the citrus vinaigrette, and both were balanced nicely by the texture of the parmesan crisps.
For the main course, we were served Lamb Cassoulet – which included lamb prepared three ways and baby rainbow chard.  With the Lamb Cassoulet, Gerard introduced a first release for the public – Space Fox, a 5% pale ale that was fermented two times with Brettanomyces.  The Space Fox was an amazingly-crafted beer with the strong aroma and flavor of pink grapefruit.  Not only was it a delicious contrast to the succulent lamb, but the fact that we were the first Forest & Main patrons to experience it made the night all that more special.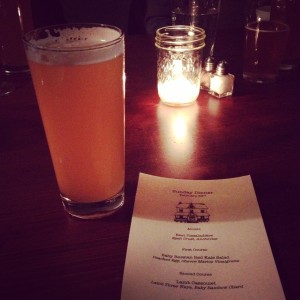 After a meal with such rich flavors, a simple dessert of candied ginger ice cream and warm chocolate sauce was perfect.  With the dessert course we were served a special version of Forest & Main's Omphalos – a 10% barleywine style ale that had been brewed in 2012, then placed in barrels with Brett – it was extremely smooth with notes of spice and coffee.  As we finished our glasses of Omphalos we were forced to acknowledge that the work week was creeping up on us and reluctantly bid goodnight to our new friends, suggesting that perhaps we would see each other again at next month's Dinner.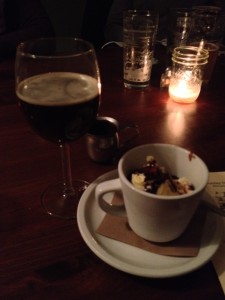 The Forest & Main Sunday Dinner is an excellent convergence of the pillars of their philosophy:  finely crafted beer, excellent food, and a welcoming atmosphere for enjoying them.  Information about upcoming dinners can be found on their website.  In its first two years of operation, Forest & Main has already earned a well-deserved reputation for quality brewing.  The addition of the "Sunday Dinner" will no doubt enhance their reputation even more.
Cheers!
The Brewholder
Copyright 2014 – all rights reserved