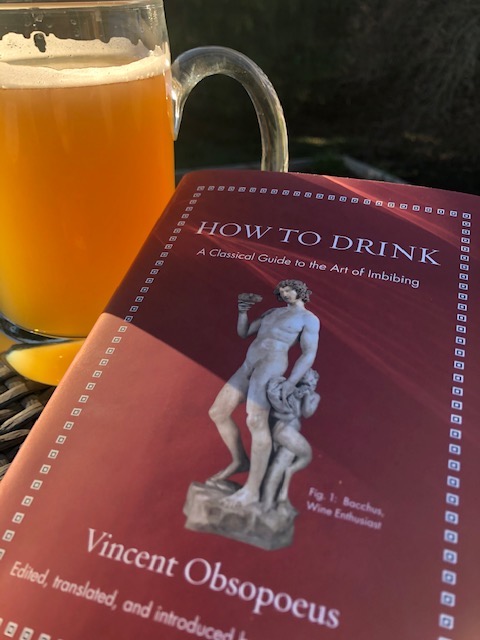 "How To Drink – A Classical Guide to the Art of Imbibing" is a modern translation of a social commentary written by Vincent Obsopoeus in 1536. Alarmed by the rise of binge drinking, peer pressure and competitive drinking in sixteenth-century Germany, Obsopoeus (pronounced "Jobs? So pay us!") argues that "moderation, not abstinence is the key to lasting sobriety, and that drinking can be a virtue if it is done with rules and limits" in a text inspired by the Roman poet Ovid's "Art of Love."
This version of "How to Drink" was translated and edited by Cornell University Professor of Classics Michael Fontaine. In the book's introduction, Fontaine defines the meaning of critical words found in the book ("Bacchus," "Flanerian," and the names of drinking vessels used in 1536), and also provides context around who Obsopoeus was and the wine soaked world in which he lived.
Based on the foregoing description, you might assume that "How to Drink" is a judgy, academic text best placed on the reference shelf for another time. But make no mistake – when you read Fontaine's translation you will realize that when it comes to drinking, there is a striking similarity between America's "drinking bro culture" and the society described by Obsopoeus almost 500 years ago. For example, I was surprised and amused by Obsopoeus's inflammatory descriptions of people you shouldn't drink with – Buzzkills, Belligerents, Blowhards, Gossips, to name a few – and realized his words are just as applicable today as they were in sixteenth-century Germany.
I found this book fascinating because Obsopoeus discusses social situations that he observed (and participated) in the 1500s – but his descriptions could be that of parties I've attended in the past 20 years! I also enjoyed reading How to Drink because it stands for a simple concept proposed by the Craft Beer industry in their battle against macrobrew: beer should be enjoyed by all and in moderation (with occasional slip-ups forgiven) – not "pounded", "shotgunned," or "funneled" in excess to prove masculinity.
While I throughly enjoyed "How to Drink," don't worry if you don't – Obsopoeus anticipated that some may disagree with his thoughts and provided his critics with this message: "May the Bacchus (wine) you drink with that stupid, obscene mouth of yours prove joyless and unfun, you bastard!" Man, I would've loved to chat with Obsopoeus over a few beers!
I recommend "How to Drink" for anyone who enjoys history, the social aspects of alcohol, and the fact that some things never seem to change through the ages!  "How to Drink" will be available from Princeton University Press on April 14, 2020 for $16.95 – order your copy here.
Cheers!
The Brewholder
Copyright 2020 – all rights reserved