Every year I try as many pumpkin beers as possible, and this year, I figured I'd keep track on my "Pumpkin Brew Blog!"  So here goes:
Southern Tier Pumking – a great start to the pumpkin season and a favorite of many, but a bit perfumy for me.  I enjoyed it, but not my first choice in pumpkin beers.
2.  Blue Moon Harvest Pumpkin Ale – a decent pumpkin spice aroma, but the underlying ale is  meh.  I guess it's a good gateway beer to craft pumpkin ales.
3.  Long Trail Pumpkin Ale – very nice, unfiltered, not overly spiced.
4.  Sam Adams Pumpkin Batch – a pumpkin saison…I was surprised how much I enjoyed this one!
5.  New Belgium Pumpkick – "brewed with pumpkin juice…" (not sure what that is), "…cranberry juice, and spices."  It's got a typical pumpkin ale aroma but has a sourness that makes it a great beer.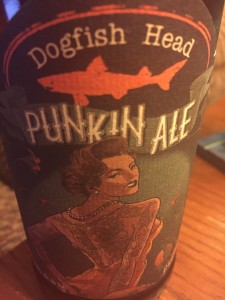 6.  Dogfish Head Punkin Ale – the classic, original pumpkin ale.  Tastes great and has some cool label art this year!
7.  Shock Top Pumpkin Wheat – it's Shock Top. With a little pumpkin.  So it's on the list.
8.  Philadelphia Brewing Company Kenz 'O Lantern – a nice pumpkin ale…wonderful aroma and easy drinking
9.  Red Hook Out of Your Gourd Pumpkin Porter – The base beer porter was tasty, but I couldn't find any hint of pumpkin, spice, or maple syrup, as advertised.  It was bottled less than 3 months ago, so it shouldn't have gone bad or lost flavor that quickly(?).  Disappointing.
10.  Glasstown Brewing Company Clash of the Pumpkins – a solid spiced beer, a bit too phenolic, but enjoyable.  Cheers to Millville!
11.  Coronado Brewing Company Punk'In Drublic – at 8% ABV, the booziness overwhelms the spice and dominates the aroma and the taste.  But mad props because I had such a great time in the brewpub there back in January!
12.  Evil Genius Trick or Treat – A chocolate pumpkin porter; brewed with cocoa, pumpkin and spices.  I like it…I like it a lot.  It's a nice combination of Halloween and Thanksgiving in  a bottle!
13.  Captain Lawrence pumpkin ale – it was ok, very mild spices
14.  Nebraska brewing Wick for Brains – in the 360 can, this is an excellent, nicely balanced pumpkin ale in line with DFH Punkin
15.  Newport Storm Rhode Island Pumpkin – strong flavor of brown sugar on this one.  Tasty!
16.  Stoudts Pumpkinfest – such an incredible job of making a lightly pumpkin spice flavored lager.   One of my favorites!
17.  Shawneecraft Harvest Saison – a saison with local pumpkins…very well balanced and a nice warmer on a grey autumn day at 7% ABV.
18.  Two Roads Brewing – Roadsmary's Baby.   A rum barrel aged pumpkin ale – the rum really comes through!
19.  Coney Island Freaktoberfest – Pumpkin beer with espresso beans; like a Thanksgiving dessert in a glass!
20.  Iron Hill Pumpkin Ale – nice, especially paired with their German inspired Oktoberfest menu!
21.  Spring House Brewing Company – Braaaainns!   Super vanilla!
22.  Free Will Scarecrow – A pumpkin wheat beer; light on pumpkin spice, more vanilla.  Easy drinking for sure!
23.  Troegs Master of Pumpkins – One of my favorites; a pumpkin saison at 7.5% ABV.
24.  Brooklyn Brewing – Post Road Pumpkin Ale – probably one of the easiest drinking pumpkin ales around.  And I'm drinking it on Mischief Night (does that still exist?) with some Jack O'Lanterns, so it is definitely the right time!  Boo!
Cheers – and happy Fall!
The Brewholder
Copyright 2015 – all rights reserved