Victory Brewing recently refreshed its Prima Pils by updating the label with a classic look and putting it into a can for easy transport this summer.  According to a press release from Victory:
"With the decision to put Prima in cans, creating 'portable Pils perfection,' we decided to refresh the label, too," said Victory's co-founder and Brewmaster, Bill Covaleski.  "The liquid is the same as it's been for 20 years but we wanted to brighten the label and boldly state what our loyal fans have been saying for decades: "PRIMA PILS PERFECTION SINCE 1996."
I'll be honest – it had been a long time since I'd had Prima Pils, but when I saw the new label (and needed cans vs. glass for poolside), I figured I'd circle back and try it again.  Let's just say I'm hooked.   Prima Pils – in a can – is perfect for throwing in a cooler and taking with you on your summer excursions (or just to your backyard pool!)  My friends and I have already been through a few cases and it's not even July yet!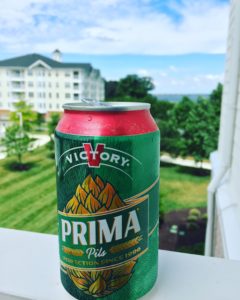 If you haven't had a Prima Pils in a while, try it again – I think it's a perfect compliment to the heat of summer picnics and sitting on the beach.
Cheers!
The Brewholder
Copyright 2016 – all rights reserved