[This is a recap of my trip to Seattle last March. Anyone who has been following my posts probably realizes that I've written less in 2017. So this is a little dated; but I wanted to get it posted because I'm going back to Seattle soon and this piece would've been harder to post after the second trip! Anyway – enjoy!]
Any time I get the opportunity to travel, I try to experience as much of the local beer scene as possible. Earlier this year I had a long weekend in the Seattle-Tacoma area that was pretty amazing, both in the number of breweries I visited and in the quality of beer I tasted.
Part of what made this trip so special was that I had two local tour guides that took me to places that I would've normally just said "nope, that's too far away from my hotel" or "I haven't seen much about that on social media." So special thanks to my friends – my mythical companion #jimantush, and Bri, who showed me more about the Seattle – Tacoma region breweries than I would have discovered on my own!
After knocking the dust off from the cross country trip with a sample flight of local brew at the Yard House in downtown Seattle, we drove about 45 minutes south and east to get to the small town of Buckley, Washington. I should note that during that drive, I was super stoked to see the imposing, snowcapped mountains on the eastern horizon and signs that said "Yakima – 123 miles."
The reason for the trip to Buckley was a visit to the local brewery, Elk Head Brewing. I had tried a well-traveled crowler of their beer earlier in the year (brought to Ft. Lauderdale by Bri, then brought to Philly by me, and sampled at my home in the burbs!) and I was excited to see the source! Elk Head is located in a small industrial park, similar to many breweries these days. But three things stood out – the all copper brewing equipment, the distinctly non-hipster clientele at the bar, and the welcoming owner-bartender Al pouring the taps. It was clear as soon as we walked in that this was the local pub; the group of beer drinkers at the bar had obviously just finished work and were there to drink a beer for happy hour – enjoying each other's company, and giving me sideways looks that seemed to say, "Who's this guy? He's not from Buckley." Most notably, these gentlemen had no handlebar mustaches and were not checking their beers into Untappd.
Once I ordered my beer – a jalapeño infused brown Ale called "Blast Zone" – I asked Al how long they had been open and how much they distribute. To my surprise he said they have been open for 14 years, and they primarily serve on site. I could ramble on about how I believe that Elk Head Brewing is the model (and the future) of the sustainability of the craft beer industry, but there are many more beers to discuss in this article.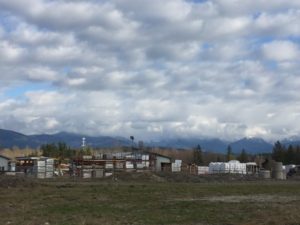 As we walked out the door of Elk Head, I was again stunned by the vision of the mountains in the distance, and kept wondering how I could squeeze a trip in to visit the famous hop fields on the other side someday.
Our next stop was in the town of Payallup, but before my lips touched any beer, I was required to learn how to pronounce the town name properly – "pew-all-up." With that out of the way, we went to Powerhouse Restaurant & Brewery. Operating in an old power station located next to the regional railroad, the brews were solid, especially the "More Power!" DIPA, with my favorite being the "Up Plum Kriek" sour ale.
After dinner, we visited Tacoma and a few of the breweries there. Dystopian State Brewing Company is located in a space that previously housed an old car dealership and overlooks Commencement Bay. With a large space for live music and a long bar, I enjoyed their "Everyone's Crisis" cream Ale as well as their post-apocalyptic branding.
The next stop was 7 Seas Brewing Company, a modern brewery in an old brewery space. 7 Seas brews in the building formerly occupied by historic brewery Heidelberg Brewing Company, which had its heyday in the mid 1900s. The large space still evokes impressions of a time when lager was king and the country needed lots of it! It holds a large tasting room offering 7 Seas' year-round brews, seasonals, and a constantly rotating Tap Room Reserve Series. My favorite 7 Seas brew was their "Chinook Single Hop IPA," but that should not come as a surprise to those who know me because of my affinity for Chinook hops! (Pro tip – I was corrected by the locals that the proper way to say "Chinook" is "shin" not "chin").
Our last stop of the evening in Tacoma was Odd Otter Brewing. Prior to arriving, it was recommended to me to try their "Ottermelon Watermelon Ale," but unfortunately it wasn't available. Instead, I sampled their Brown Ale which was a very malty, enjoyable beer to drink as we laughed at the late night karaoke devolving in the back room.
The next day we made our way north from Tacoma into Seattle. Our first stop was in Seattle's southern district of Georgetown at the aptly named "Georgetown Brewing Company." Opened in 2002, Georgetown Brewing Company was the largest draft-only beer production company in the country until this summer. For 15 years Georgetown only sold kegs and growlers – according to our server in their large tasting room, Georgetown filled over 100,000 growlers in 2016.
Their flagship beer – "Manny's Pale Ale" – can be found on many taps in Seattle; they sold over 50,000 barrels of "Manny's" in 2016. In May of this year, they began canning Manny's, so their "largest draft only" title is no longer applicable. In the tasting room, 7 or 8 samples are usually available from an extremely friendly and knowledgeable staff, and if you like one of the samples, you can purchase a prepoured growler of it.
After Georgetown, we made our way into downtown Seattle to experience Holy Mountain Brewing Company.
Walking into the unassuming grey warehouse, I expected the interior to be a dark, industrial design with maybe some neon lights, like so many other warehouse breweries today. But similar to entering a shabby tent in the desert and finding it a luxurious palace, as I entered Holy Mountain Brewing, it took me a second to process what I was seeing. White subway tile on the walls was illuminated by significant amounts of sunlight, and high ceilings gave the impression that you had stepped into a beer oasis.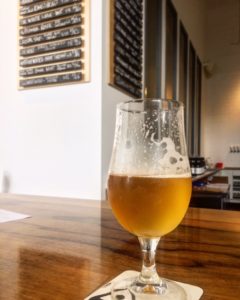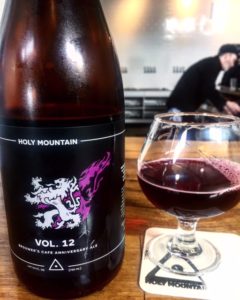 Having never heard of Holy Mountain before this trip, I was surprised again – the first beer on the draft list was "Satan is Real" pilsner, a collaboration with our own local brewery Tired Hands! After I tried the collaboration (and commented in irony, "Really? I come to Seattle and end up drinking a local Philly beer?"), my companions and I split a bottle of Holy Mountain's "Volume 12" an amazing sour Ale brewed with black raspberries to celebrate the 12th anniversary of craft beer bar "Brouwer's Cafe" in the Fremont section of Seattle.
Next, we continued traveling north to the Ballard section of town, and as we crossed the Ballard Bridge, there was another exciting moment – as I surveyed the massive crowd of fishing boats in the harbor and saw the ship the "Cornelia Marie" from Discovery Channel's "Deadliest Catch" fame.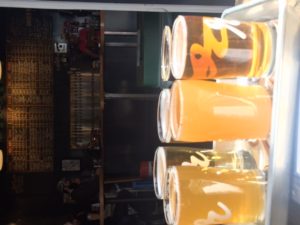 Once we arrived in Ballard, we visited Reuben's Brews. I ordered a flight and took a seat at a picnic table in the warm spring sun. After trying a pilsner and a barrel aged breakfast stout, their "Mosaic Crush IPA" had the perfect aroma and flavor to earn its name. As much as I hate the phrase, it truly was "crushable" in the Seattle sunlight.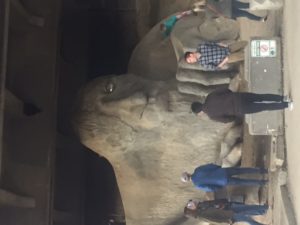 After Reuben's Brews, we traveled to the Fremont district and took in the Fremont Troll, a giant troll statute under the Fremont Bridge and a must see if you go to Seattle.
While in Fremont, I made a brief visit to Outlander Brewing, which, similar to Forest & Main, operates in a renovated early 1900's home. I enjoyed a quick brown ale, then made my way next door to "Woodsky's" bar, where I had Seattle's own "Rainier Pale Ale", on the recommendation of a fantastic, handlebar mustache-sporting bartender who told me a great story about his visit to Philadelphia and tailgating before a Union game.
My last stop of the trip was Populuxe Brewing, also in the Ballard section of town. At the time, Populuxe was operating out of their original nanobrewery space that consisted of a tap station in the front and a beer garden in the back. In September of 2017 they expanded their space and the main brewery is now located next door. Populuxe was one of the few breweries that I visited in Seattle that not only served a NE style IPA, but nailed it! In fact, one of my tour guides had never heard of the style before, but was so enamored with Populuxe's version that she now seeks them out and emails me links to the tap releases! Populuxe's "4th Anniversary IPA" had an amazing tropical fruit and citrus aroma and looked like pulpy grapefruit juice. It was excellent!
To enhance their beer, Populuxe features food trucks, and the one that was there during our visit served Mac and cheese with chorizo and Kim chi, as well as a "Vietnamese style" cheesesteak. All in all, Populuxe was a perfect last stop and is on my list to re-visit when I go back.
In the end, Seattle is known nationally for large brands like Red Hook, Ten Barrel and Elysian. But with a little bit of research – and some tips from locals – you'll find some exquisite jewels of craft breweries.
Cheers!
The Brewholder
Copyright 2017 – all rights reserved