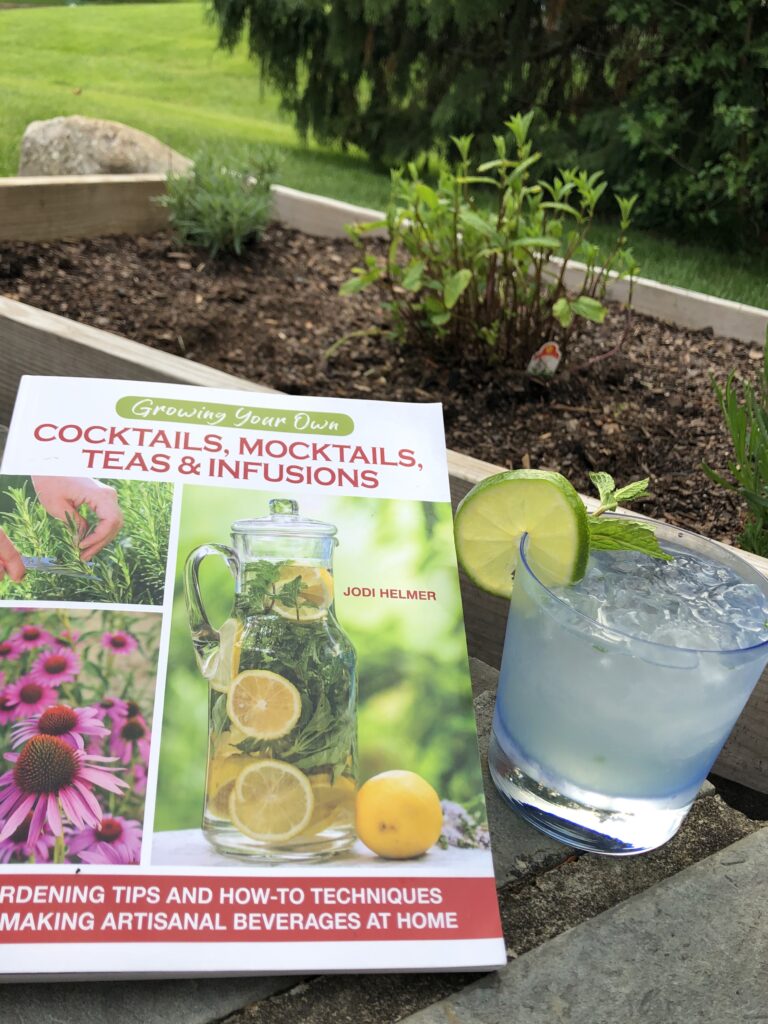 Now that Mother's Day has come and gone, the gardening season is in full swing. If you have a traditional kitchen garden like me, you are waiting with anticipation…wondering if your tomatoes, cucumbers, peppers and a handful of herbs will be successful enough to make a salad and some garnish later this Summer. But other than salad, what else could you grow to make your days tastier?  Jodi Helmer's "Growing Your Own Cocktails, Mocktails, Teas & Infusions" answers just that question.
While not an expansive reference book, the five chapters of "Growing Your Own" provide a solid foundation for the development of a beverage that you can grow from scratch.  Helmer opens with a  "brief history of your favorite drinks" and then launches into a lengthy chapter on plants that can help make a cocktail special, describing "leaves", "flowers", "fruits and vegetables", and "roots."  What is especially helpful is that Helmer provides the suggested growing zone for each variety (and the growing zone map for North America) so that you don't accidentally choose a tropical plant that couldn't survive your garden in Pennsylvania!
Helmer continues by providing tips for every aspect of bringing your garden into your glass (and your mouth!). From garden planning to harvesting to proper glassware, everything you need to make your first artisanal beverage can be found in these chapters – including recipes for simple syrups enhanced with herbs, cocktails, and non-alcoholic drinks.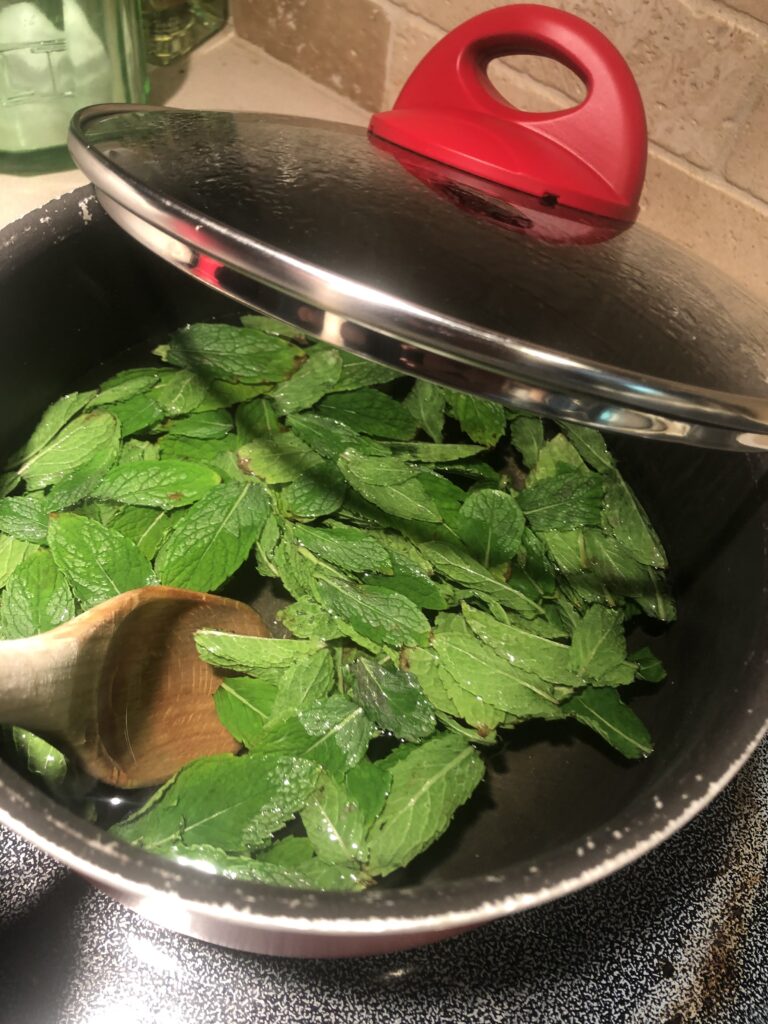 To put Helmer to the test, I harvested fresh spearmint from my garden and made a simple mint syrup, following the instructions on page 125.  With the mint syrup in hand, I gathered the ingredients for the Mojito recipe on page 133.  It was a delicious, summer cocktail, to celebrate Memorial Day Weekend and the informal beginning of summer. I would definitely consider this "experiment" a success; the libation was tasty, especially because I knew that the mint had been growing outside my back door only a short time ago.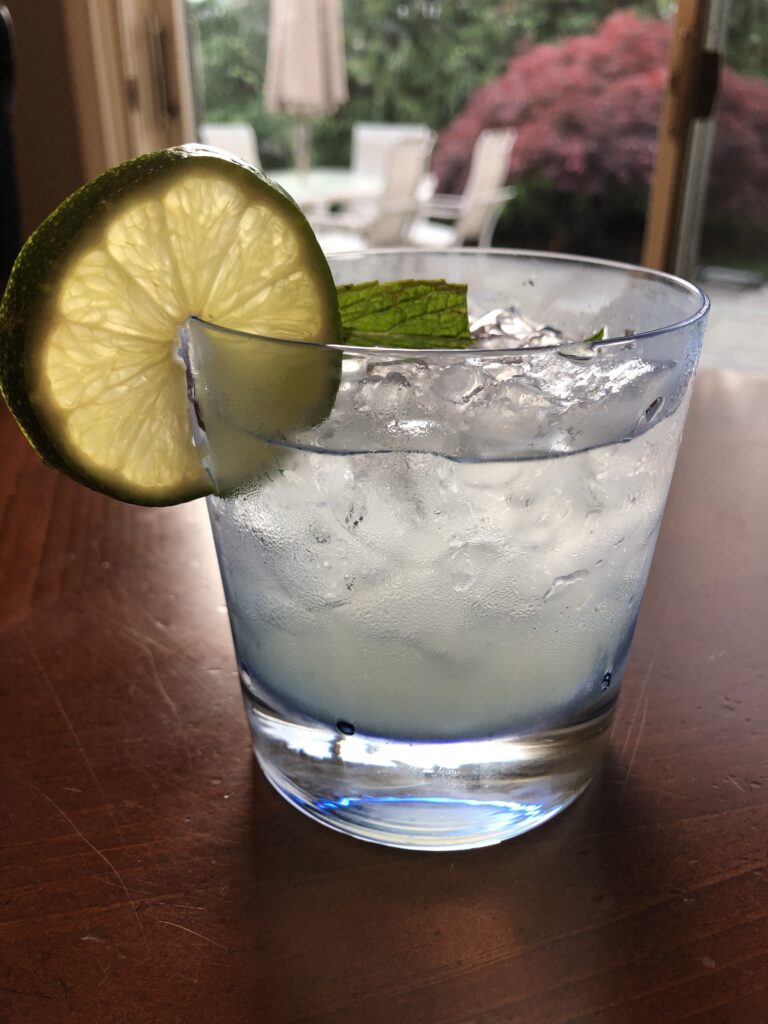 Overall, "Growing Your Own Cocktails, Mocktails, Teas & Infusions" is a solid introductory book for home gardeners and bartenders alike.  With the word "Cocktails" in the forefront of the title, I expected to see more recipes, but as I noted above, the recipe for the Mojito was excellent, so I'll take quality over quantity in this case.  And one note – the chapter on cocktails was written by Jeanette Hurt, author of "Drink Like A Woman," so check that book out if it is more recipes you need! In addition to Helmer's gardening expertise, the photography in the book is bright and enticing; it motivates the reader to plant that garden and get ready to enjoy a homegrown cocktail some evening later this summer!
"Growing Your Own Cocktails, Mocktails, Teas & Infusions" was published in April 2020 by Fox Chapel Publishing. It is available on Amazon and retails for $18.99.
Cheers!
The Brewholder
Copyright 2020 – all rights reserved