While many people mark the beginning of this hectic season by "shopping til you drop" on Black Friday, I tend to take a more reflective approach.  I can't think of a better way to reflect on the past year than to sit in a warm public house with a craft beer and comfort food.  In my opinion, there is no better place for this than McGillin's Old Ale House in the "MidTown Village" section of Philadelphia. Located on Drury Street, a narrow, not well-maintained, alley, McGillin's has provided a safe haven for those looking to drink and eat in a comfortable atmosphere since 1860.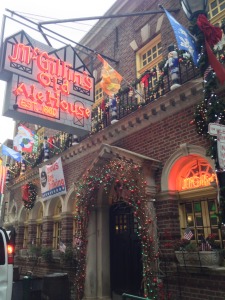 On Thanksgiving weekend, McGillin's transforms itself into a Christmas wonderland.  As described on their website, "It's like Christmas with steriods at McGillin's – with more than 1,000 feet of garland, 1,200 feet of lights, 350 bows and ornaments."  It's the perfect place to stop in for a meal and a drink while enjoying Philadelphia Christmas activities like the Macy's Light Show and the Dickens Village, the Philadelphia Christmas Village and the Comcast Spectacular.
In what is becoming an annual tradition (see my post from 2013), McGillin's is definitely my choice to jump start to the holidays.  Stop in and have one of McGillin's specialty brews, crafted only for McGillin's by Stoudt's Brewing in Adamstown, or try another local Philadelphia craft brew like Philadelphia Brewing Company's Walt Wit or Sly Fox's Christmas Ale.
So here's to the beginning of the holiday season – and cheers to McGillin's!
Cheers!
The Brewholder
Copyright 2014 – all rights reserved